Another 650 occupiers have been eliminated in the last 24 hours, the russian army has lost about 51 900 military personnel up to 9 September - the General Staff has said on Facebook. 
Other losses from 24 February to 9 September had reached:
50 900 (+550) troops
2122 (+10) tanks,
4575 (+18) armoured vehicles,
1237 (+11) artillery systems,
306 (+1) multiple launch rocket systems,
159 (+0) anti-aircraft systems,
239 (+0) warplanes,
211 (+1) helicopters,
888 (+4) UAVs,
214 (+0) cruise missiles,
15 (+0) warships/boats,
3399 (+55) vehicles and fuel tankers,
114 (+4) pieces of special equipment. 
The enemy suffered the greatest losses in the Donetsk and Kharkiv areas. The data is being specified.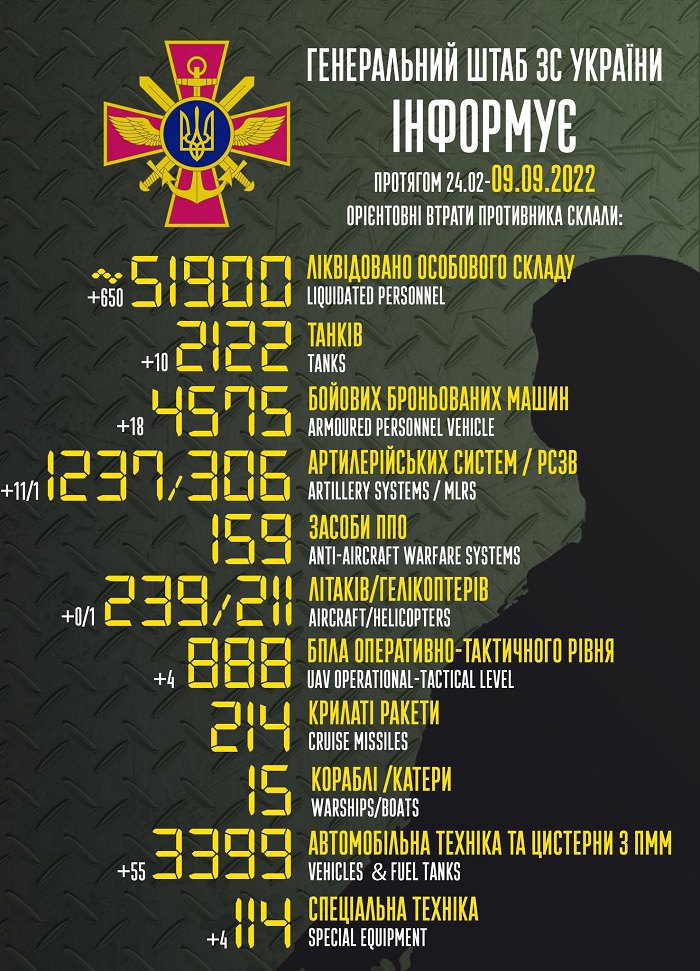 Today is the one hundred ninety-ninth day of resistance to the russian military invasion. The russian troops concentrated their efforts on establishing full control over the territory of Donetsk Region, maintaining the temporarily captured areas of Kherson, Kharkiv, Zaporizhzhya, and Mykolaiv Regions. The enemy conducts constant UAVs aerial reconnaissance and continues to take measures to improve the logistical support of its troops.
The defence forces are conducting a successful counteroffensive in the Kharkiv area. Thanks to the skillful and well-coordinated actions of the Armed Forces of Ukraine, with the support of the local population, we advanced almost 50 km in 3 days.