Businessman Hennadiy Bogolyubov (Boholyubov), a long-time business partner of tycoon Ihor Kolomoyskyy, has denied applying to the Migration Service to restore his Ukrainian citizenship, as ZN.ua alleged in one of its articles.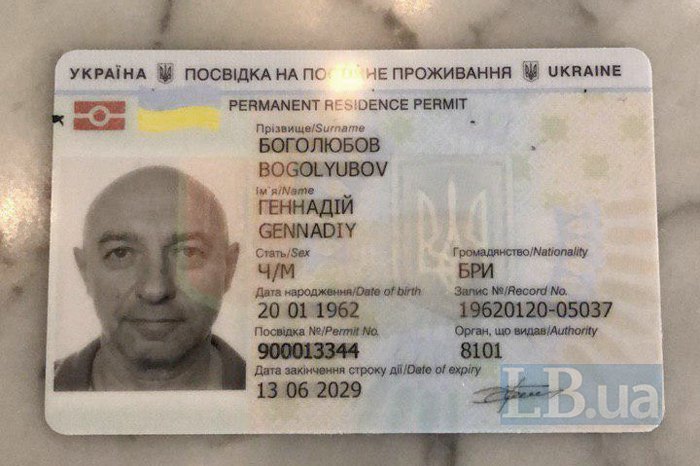 "Sheer nonsense! Today I have a permit to live permanently in Ukraine. That is what I applied for to the Migration Service," he said in an exclusive commentary to LB.ua.
He noted that he received the permit on 21 June.
"In the spring of 2017, then-President Poroshenko submitted to parliament a draft law on the prevention of dual citizenship, stating that those who want to have the Ukrainian one should drop the other. I was in London and went to our consulate, where I actually waived Ukrainian citizenship because I did not want to lose the other," Bogolyubov said.
Asked the citizen of which country he is, Bogolyubov said that he holds a British passport.
"The situation has changed - the new president said that there are 65 million of us, Ukrainians around the world, and called [on us] to return and transform the country together. I came back in response to his call. But, given that I have British documents, I can only stay in Ukraine 90 days without leaving it. That is why I went to the Migration Service to apply for a permanent residence permit to feel calm and not count the days," he added.
According to Bogolyubov, during a visit to the Migration Service, he met The Financial Times journalist Roman Olearchyk, "whom I have known for many years and who literally was stunned when he saw me. Apparently, I thought that I was there to corrupt someone."
The businessman said that it was after this encounter that media reports about his attempts to restore Ukrainian citizenship emerged.
In May 2019, the nationalized Privatbank launched legal proceedings against Bogolyubov and Kolomoyskyyy in the United States.
In the USA, the two are suspected of gross money laundering and illegal enrichment.
Obtaining Ukrainian citizenship, according to ZN.ua sources, could protect Bogolyubov from extradition.