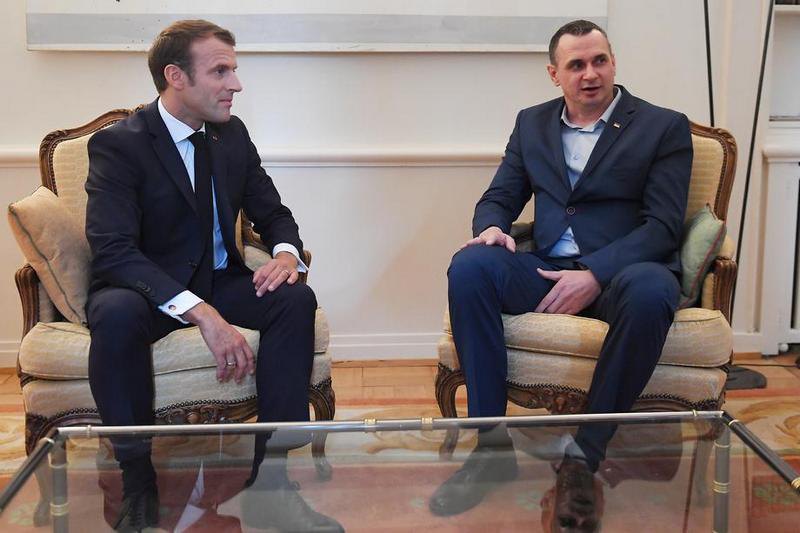 French President Emmanuel Macron met Ukrainian film director Oleh Sentsov, who was freed from Russian captivity, on 1 October. The meeting took place in France's office in the Council of Europe in Strasbourg during the autumn session of its Parliamentary Assembly.
"Do you continue to write?" Macron asked Sentsov.
"Yes, certainly. A creative path is yet another path for me, I do not forget about it, but it has moved into background now," Sentsov said, adding that he plans to continue with directing films.
Journalists were then asked to leave the room.
Sentsov later said on Facebook that he had presented his prison mug to the French president.
"It was interesting to meet and talk. I thanked him for helping to free the prisoners and for supporting Ukraine as a whole. I was glad to hear that he was not going to stop there and the work would continue. I asked Macron whether he understands Putin's true goals and trusts him. I was satisfied by his answers. He asked me about the prison but I did not talk about it, there are things that are more important now. Instead, I talked about my vision of the situation and more specifically about 227 our prisoners in Donbas and 86 in Russia. Most of them are Crimean Tatars who are suffering for their political and religious beliefs, whom the occupiers are trying to present as Islamic terrorists. The president heard me. For my information to sink in better, I gave him my prison plastic mug with a surname glued to it. I told him: 'You can put it on a shelf or you can throw it out, it doesn't matter. What is more important is that you don't forget about our prisoners," Sentsov said.
Sentsov was held in Russian jail on made-up charges from May 2014 to September 2019. He was released during a major 35-for-35 prisoner swap on 7 September.