NNEGC "Energoatom" has published data on modeling the movement of air masses in the event of an accident at the Zaporizhzhia nuclear power plant within the next 9 hours.
The agency emphasizes that the model of distribution and trajectory of air masses from the industrial site of Zaporizhzhia NPP was developed for a hypothetical accident at ZNPP.
"This area was obtained by simulating the distribution of emissions in case of one of the scenarios of a severe accident with damage to the reactor core of one of the units. This can happen due to fuel cooling loss and emissions can be possible due to leakage of contaminants," according to the Ukrainian Energoatom.
The calculations were performed using the European decision support systems JRODOS and ARGOS (for DSA Norway calculations), based on the meteorological forecast data for the next three days.
Meteorology is based on NWP Data GFS 0.50 0000Z 4 March, 2022. "According to the calculations obtained by SSTC NRS and DSA (Norway), the direction of cloud diffusion is southeast (towards the Russian border) to a distance of 1100 km from the ZNPP site. The direction of cloud movement differs slightly due to differences in the initial data during the simulation," the statement said.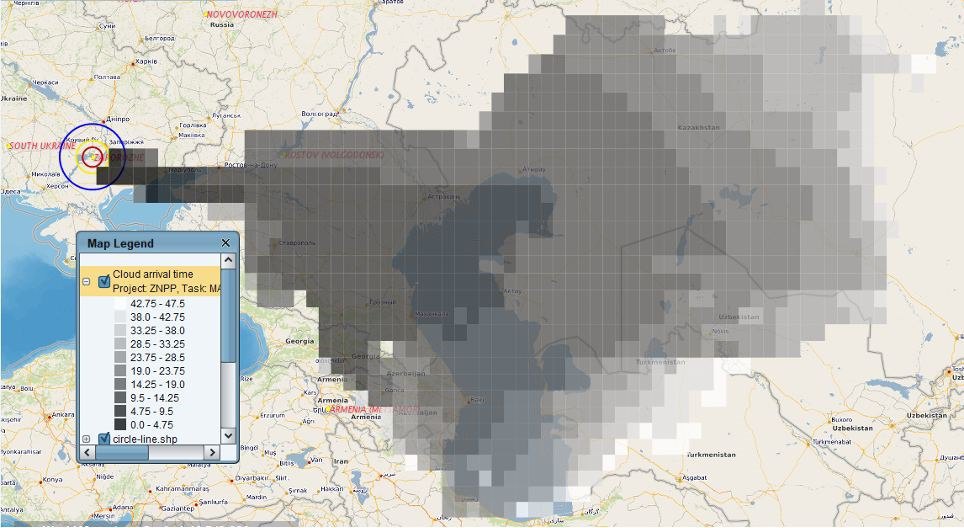 Cloud arrival time Project, DSA (ARGOS), year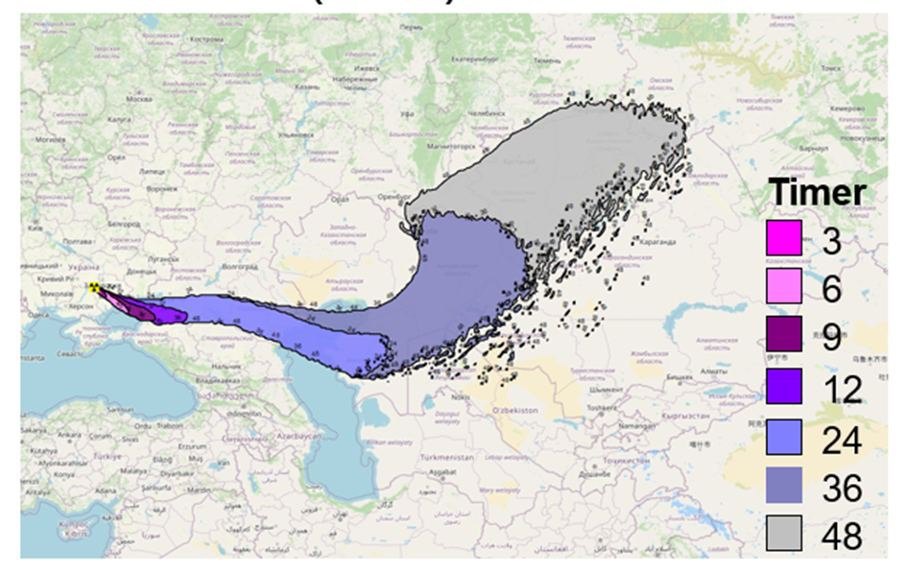 Cloud arrival time Project, DSA (ARGOS), год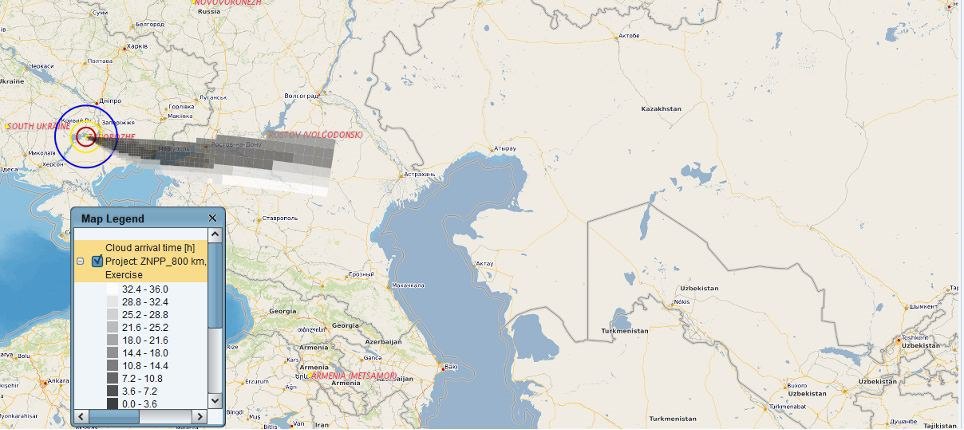 Cloud arrival time Project, DSA (ARGOS), year
As previously reported, yesterday the Russian troops fired at Energodar and ZNPP located in the city. As a result, the fire has begun on the territory of the nuclear power plant. The station staff was not injured. Three Ukrainian military defenders were killed and two others were wounded.
As a result of artillery shelling of the ZNPP industrial site, the reactor building of the ZNPP Unit 1 was damaged. Two artillery shells hit the site of the spent nuclear fuel storage.
The State Nuclear Regulatory Inspectorate of Ukraine has stated that the degree of damage to the structures and systems of these nuclear facilities and their impact on safety requires additional assessments based on the results of thorough inspections by special services.
The building of the training center, located right next to the ZNPP industrial site, was severely damaged.
Operational personnel are currently monitoring the condition of power units, working under pressure from the armed forces of the Russian Federation, which captured ZNPP.
No changes have been recorded in the radiation status in the Zaporizhzhia region and the gamma radiation background is within normal limits.