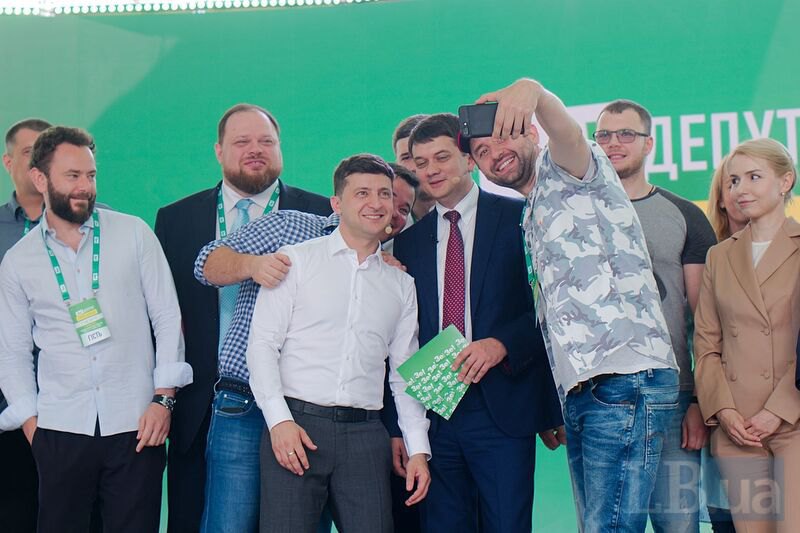 The Servant of the People announced the top-20 list of candidates for the 21 July snap parliamentary election at its congress on 9 June.
1. Dmytro Razumkov, head of the Servant of the People party
2. Ruslan Stefanchuk, President Volodymyr Zelenskyy's representative in parliament
3. Iryna Venedyktova, judicial expert
4. Davyd Arakhamiya (David Brown), volunteer, businessman
5. Halyna Yanchenko, Kyiv councilor
6. Mykhaylo Fedorov, Zelenskyy's adviser
7. Oleksandr Korniyenko, election HQ head
8. Anastasiya Krasnosylska, former board member of the Centre for Counteraction to Corruption, tax and anticorruption law expert
9. Oleksandr Tkachenko, One Plus One director-general
10. Zhan Belenyuk, Greco-Roman wrestler
11. Serhiy Babak, directr of educational programmes at the Ukrainian Future Institute
12. Vladyslav Krykliy, head of the Interior Ministry's Main Service Centre
13. Olena Shulyak, head of the Construction sector at the Better Regulation Delivery Office (BRDO) think-tank
14. Dmytro Natalukha, expert in strategic communications, former head of the Lyman district state administration under ex-governor Mikheil Saakashvili
15. Yelyzaveta Yasko, producer, founder of Yellow Blue Strategy
16. Oleksiy Orzhel, head of the Energy sector at the Better Regulation Delivery Office (BRDO) think-tank
17. Andriy Herus, Zelenskyy's representative in the Cabinet of Ministers
18. Mykhaylo Radutskyy, founde of the Boris clinic
19. Denys Monastyrskyy, expert of the Ukrainian Future Institute
20. Danylo Hetmantsev, lawyer, honorary president of the Jurimex firm
Razumkov said that the party would be holding "post-primaries". During a month the public is invited to send their suggestions about the candidates.
According to the latest polls, the party enjoys around 50% of support.